It's no secret that laws, perceptions and attitudes surrounding cannabis are changing around the world, particularly in the USA. States like California and Oregon have warmly embraced this magical plant – both medically and recreationally, stirring a new wave of weed tourism. In recent years cannabis enthusiasts, especially those like myself from illegal states and countries, have been flocking to these regions to catch a glimpse of this rapidly growing industry. From cannabis themed tours to 420 friendly accommodation, legalization in America has inspired a huge number of innovative businesses that cater to pot-curious travelers from all over the globe.
---
Being an avid nature lover and keen weed aficionado, I couldn't plan this trip to the US without a stop in Oregon. From its impressive variety of natural wonders to cute and quirky towns, Oregon may offer more delight to the cannabis-friendly traveler than any other state in America. It was the third state to legalize recreational cannabis and is one of the leading regions in the country for cultivation. Only having enough time to visit one or two towns in Southern Oregon, Ashland and the surrounding areas seemed like the perfect spot to stay and explore.
After spending time in beautiful Mendocino on the Northern California coast, I could see the landscape start to change as we drove further north through Humboldt and Del Norte Counties. Huge redwood and pine trees, windy mountainous roads, rapids and valleys – an insanely scenic and relaxing drive, particularly as a happy and high passenger with full control of the music!
After a night at a cheap but charming motel somewhere in the forest just south of the Oregon border, it was an early rise and shine/wake and bake before the journey to Ashland continued.
My first impression driving into Ashland was that it was quaint and very green with an abundance of unique shops, buzzing restaurants and beautifully manicured parks and gardens. I couldn't wait to settle in, smoke up and explore.
Arriving at our accommodation, The Stratford Inn, we were warmly greeted by the hotel's social media coordinator, Stephanie Warner, who helped arrange our stay in Ashland and also a cannabis tour of the region. We were introduced to our tour leader for the day and went on our jolly way.
Ricky Price, founder and guide of High Siskiyou Tours, is a Rogue Valley native with incredible knowledge, obvious passion and connections to the best cannabis businesses in the region. A pioneer in the 420 tour industry, he has dedicated the past decade to seeking out the most beautiful spots in Southern Oregon, combining super scenic stops with visits to the best dispensaries, hemp farms and indoor grow facilities that the area has to offer. We began the tour with a short drive around Ashland before stopping at a quiet and incredibly lush looking park to indulge in some of Ricky's famous CBD cocktails. With a choice of 5 refreshing flavors, the cocktails are made using herbal CBD bitters, various fresh pressed juices and herbs grown by the man himself. Choosing lavender bitters, I watched on as Ricky whipped up my calming concoction in front of me. We spent some time sipping our cocktails, getting to know the group and discussing the exciting day ahead.
---
Feeling cool, calm and seriously collected, we got back aboard Ricky's magic van and drove to the next stop on the tour – an outdoor CBD hemp farm.
Sacred Flower Farms
Aptly named, Sacred Flower Farms is situated in Medford (around a 20 minute drive from Ashland) and truly is a little slice of paradise. Applying numerous organic practices to their cultivation, the plants are grown in the Rogue Valley's rich Southern Oregon soil under the bright sun, all without the use of pesticides and synthetic nutrients – just as nature intended. Southern Oregon, like Northern California and its famed Humboldt County, boasts near-ideal outdoor growing conditions. At Sacred Flower Farms, each and every step of their growing process (indoor included) is infused with love and produced in an organic and environmentally friendly way – and the results of these methods really shows. Everything on the farm is healthy, beautiful and absolutely thriving – including the adorable ensemble of alpacas! The cultivation facility is also close to being a closed-loop grow, where almost all the inputs (such as soil additives and nutrient mixes) are grown onsite.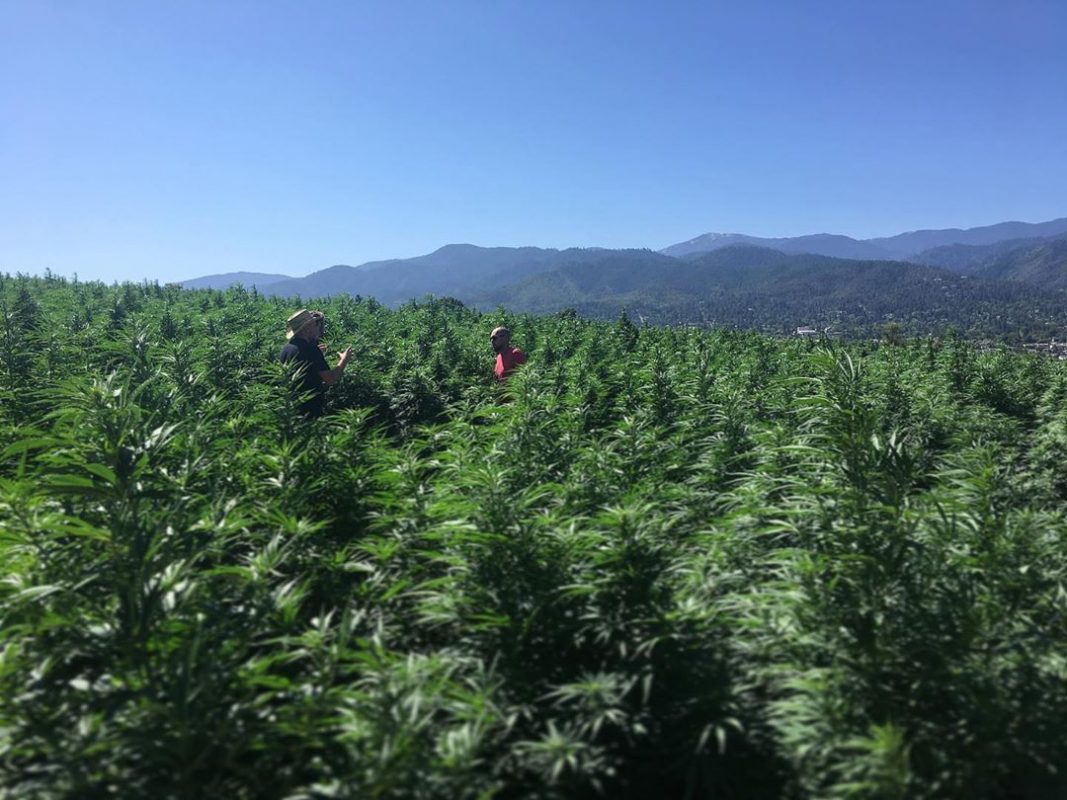 ---
The next hour was spent walking around the farm and chatting with the team while sampling some of their divine produce. Oh, and I obviously spent a lot of time with the friendly little farm dog, Bodie. Feeling buzzed after some solid vitamin D and vitamin THC, it was back aboard the magic van to our next stop Ground Up Farms – a dispensary located also in Medford.

If you've never been to a dispensary, it's unlike any weed purchase you've ever made before. Gone are the days of meeting sketchy random dudes in a desolate car park at night, unsure of what strain/quality you may end up with, or even worse, getting scammed with a stemmy bag of seeds or oregano. Visiting a dispensary really normalizes the whole experience and is just like shopping for any other product. Budtenders are friendly, knowledgeable and will usually allow you to closely inspect and smell the product before making a purchase. Various strains of flower, concentrates, edibles and many other products are on display in glass cabinets and everything is required by law to be lab tested and labeled correctly, with all packaging displaying the THC/CBD percentage, harvest date, cultivator and those usual government warnings.
I visited a bunch of dispensaries in California and Oregon, and I'd have to say that Ground Up Farms was my favorite overall. The atmosphere was wonderful, the staff were delightful and the product range was vast and of high quality. The layout and design of the space was sleek and professional, displaying their product in a superbly appealing manner. As an Australian, I was in constant awe when stepping into dispensaries during this trip. I just couldn't believe the crazy amount of cool shit that was available to purchase and how easy it all was. All I needed to show was my passport proving that I was over 21. This is the future! I purchased 3.5g of Garlic Breath flower (divine), 1g of Wookies live resin and abox of rice crispy edibles before heading down the road to some food trucks for a cheap and surprisingly delicious lunch.
---
Grown Rogue
The final stop with High Siskiyou Tours was to Grown Rogue – a 17,000 square foot state of the art indoor grow facility in Medford. We were introduced to Sarah Strickler, co-founder of the company and their lead indoor grower Ken Cobb who guided us around each of the 8 full flower rooms, explaining their growing processes and philosophies while allowing us to get up close and personal with their breathtaking ladies. Every aspect of the cultivation process is carefully monitored and refined in this impressive and well-engineered facility. Having the environmental control that comes with indoor growing allows the team to produce consistently outstanding results all year long without the challenges that Mother Nature can bring. It's obvious that the close-knit team at Grown Rogue is passionate about the environment and educating the community on the benefits of this incredible plant.
---
All in all, the day with High Siskiyou Tours was spectacular. Ricky is a gracious, responsible and relaxed guide who really makes you feel like you're just hanging out with an old friend. We even joked about rolling up and smoking my passport so that I was unable to get back to Australia and could get lost in the Rogue Valley instead. I learnt a lot on the tour and met some extraordinary and truly passionate people who are dedicated to moving the industry towards normalization.
STRATFORD INN, Ashland, Oregon
Arriving back at the hotel, it was time to check in and relax after a huge day of hazy adventures. Our King Room at The Stratford Inn was super spacious with a kitchenette, cozy furnishings and a view of the mountains in the distance. The bathroom was modern and sleek with luxurious towels and a bathtub…the perfect home away from home! The really cool thing about The Stratford Inn is that it's a cannabis friendly hotel. There is a designated outdoor smoker's garden where guests are free to roll up, smoke up and mingle with other like-minded travelers. The space is private, inviting and serene with beautiful trees and quirky decorations that create a tranquil atmosphere. The perfect spot to roll up some Garlic Breath and relax with new friends after a long day!
---
The next day was spent exploring the town of Ashland – sampling the local food, visiting unique shops and chatting with locals. A nice way to spend an hour or so is to grab a coffee and walk around Lithia Park. Located in the heart of the city along Ashland Creek, Lithia Park is peaceful, green and beautifully maintained. There's a Japanese garden, pond, an outdoor amphitheatre and plenty of little forest nooks for some solitary and seriously scenic smokey time. For dinner that night we had tapas paired with some local wine at Ostras, a beautiful little Spanish restaurant overlooking Ashland Creek, before stumbling into a lively bar called Oberon's for some more wine and live music. Soon after it was back to the cozy smoking lounge at the Stratford Inn for some dabs and more drinks with new friends – the perfect way to end an amazing couple of days.
It's safe to say that Ashland and The Rogue Valley has swept me off my feet, blown my mind and stolen my heart. Evoking a warm and relaxed vibe, it's a place that is blessed with friendly locals and beautiful scenery as well as a vibrant food, wine and weed scene. The perfect destination for those who like to absorb themselves in nature, unwind and enjoy the finer things in life.
Where Is The Stratford Inn?
You can find The Stratford Inn located in the relaxed and beautiful Ashland, Oregon, USA.
How Do I Book My Cannabis Friendly Stay?
To find out more or organize a stay at The Stratford Inn please contact Stephanie, she's your key to your room! Stephanie will be more than happy to assist and answer any questions regarding your future stay, rooms, experiences and much more.
For Rooms & Rates please click here
Want To Stay Up To Date With Courtneys Adventures?
You can follow Courtney and stay up to date with all her cannabis adventures and creative content on here Instagram.
---
SOCIAL LINKS
BOOK YOUR CANNABIS FRIENDLY ACCOMMODATION STRATFORD INN
---
CANNABIS TOURS. YOUR NEXT ADVENTURE. HIGH SISKIYOU TOURS