CBN is also known as Cannabinol, a chemical compound found in the Cannabis Sativa plant. If you're a regular stoner, you most likely already know about the more popular Cannabinoids – CBD & THC. In this article we will be talking about CBN or Cannabinol.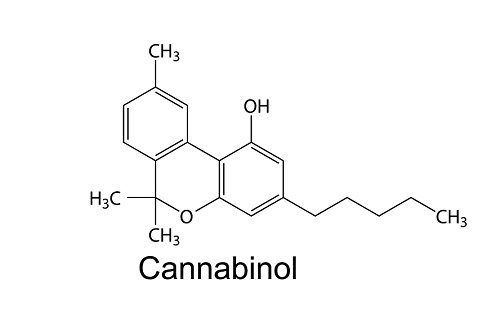 CBN is far less popular than CBD or THC, and it's said to be the "sleeper" Cannabinoid. Just like CBD, CBN is a non-psychoactive Cannabinoid unique to the Cannabis plant, it is believed to be created when the plant or THC ages.
Given its dominant presence and sedative effects in aged Cannabis, CBN has a discreet sedative quality is certainly the thing that distinguished from other Cannabinoids. Still, it doesn't mean we don't have much to learn from CBN or much to benefit from becoming more accustomed to its chemical effects and makeup.
Study on CBN Finds It Boosts Sedative Effects
Much of the study on the effects surrounding Cannabinol, mainly sedation, has been carried out in rodents. A study in 1975 demonstrated that Cannabinol boosts the sedating effect of tetrahydrocannabinol (THC ) in rats. Sedation is usually associated with Cannabinol because aged flowers have much more CBN than fresh Cannabis. However, the sedation is not necessarily a product of CBN, rather aged THC. The sedation factor is one of more than a few primary variances when comparing CBN to CBD, as CBD does not cause sleepiness or drowsiness.
Cannabinol remains mostly valued as an effective sleep aid. An investigation from Cannabis Tech Company – Steep Hill Labs demonstrated that 5mg of CBN is as effective as 10mg of Diazepam,  a well-known pharmaceutical sedative which may be sold under the name Valium.
In addition to being used as a sleeping aid, research shows Cannabinol has pain relieving effects in the body. It has been shown only to produce roughly 10% of the activity of THC.
You will find that Cannabinol is one of more than few Cannabinoids with the potential to fight bacteria. It was observed to be very effective when tested on numerous antibiotic-resistance bacteria and may prove a viable choice for reducing Methicillin-Resistance Staphylococcus Aureus bacteria in time to come.
4 Benefits Of CBN You May Not Know
1. Alleviate Your Pain
Research finds that Cannabinol has a pain-relieving effect on the body. Cannabinol appears to influence the activity of neurons that are sensitive to Capsaicin, you know the stuff you find in chilli peppers. It's extracted into topicals and other pain relieving medication. (Capsaicin, you might know, is found in chili peppers, and an ingredient added to many topical pain relievers.) These capsaicin-sensitive nerves are important to the body's pain signaling and perception.
2. Anti-Biotic Benefits
Research shows CBN has the ability to fight bacteria. A 2008 study found CBN one of several cannabinoids (including CBD) effective in treating MRSA, a bacterial infection that is resistant to antibiotics.
3. Anti-Inflammatory Agent
Like CBD, CBN appears to have anti-inflammatory capabilities. Scientists working to better understand how the human endocannabinoid system affects the immune system. Cannabinoids, including CBN, are being examined for their possible therapeutic role in treating inflammatory disease.
4. CBN May Increase Appetite
This is one area in which CBN behaves very differently from CBD. While CBD has appetite-suppressing effects, Cannabinol appears to stimulate the appetite. This may make CBN a therapeutic option to help increase appetite in people who struggle to maintain an appetite because of another illness, such as cancer, or its treatment.
Where Can I Find CBN Products?
Companies have begun releasing Cannabinol in Tincture and Edible form. Mainly being marketed as a Sleep Aid. If you're in California you can easily find CBN at most of your dispensaries if not all.