Meet Alien Tech, a Cannabis accessories company from Australia. These grinders are built to last and to provide you a stress-free grinding experience all in the palm of your hand.
We all have one or more in our stash box, you definitely have used one a few times in your years as a Cannabis smoker. They're typically made out of plastic or metal and they're pretty essential when it comes to grinding your weed. Unfortunately they often only last a short while before binding up. Alientech's are a cut above the rest.
You might not know this but the accessories and the way you grind your herb will affect your overall smoking experience, including the potency and flavor and burn of your weed. You may still use scissors or even your own bare hands. Cannabis users will always find a way to roll one up and smoke. But grinders are arguably still the optimum way to prepare your medicine.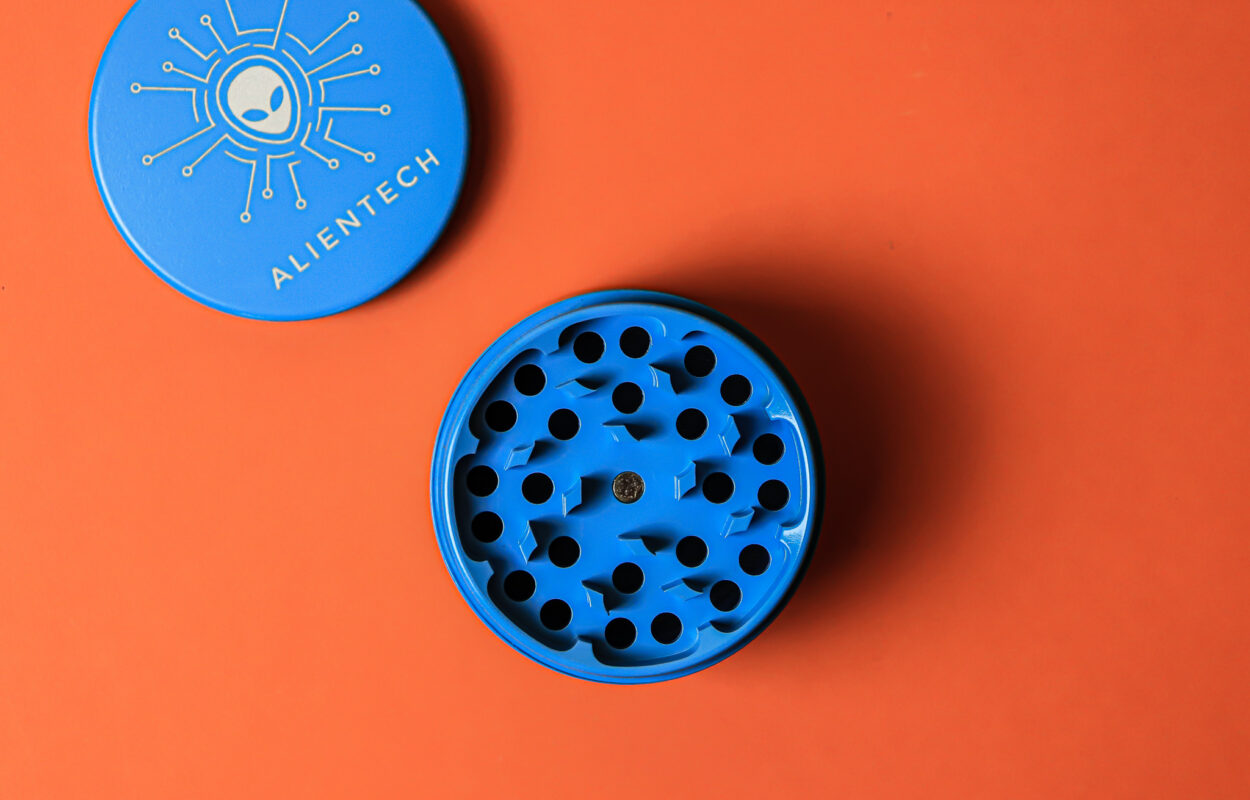 Over the last few weeks I've had the pleasure of chopping up my weed with this new 4-piece grinder by Alien Tech. It has been an effortless process every time – no clogging, binding or sticking. The herb is chopped to a perfect consistency for packing slides, rolling joints and even herbal vaporizers.
You can expect a fluffy consistency of your herb with every grind even through the stickiest dank. I find the holes in the top piece are a great size and seem to repel sticks or stems falling through to the middle chamber.
Design
Made from Spacecraft Aluminium, this type of composite is very lightweight and strong and will stay sharp throughout its lifetime. The nano-ceramic coating is where this grinder really excels. The thick non-stick coating makes it that much easier to grind. Because of the non-stick surface it also helps with keeping all compartments of the grinder clean and it takes minimal maintenance to keep it grinding optimally. Unlike other grinders which clog up after a few weeks of sticky herb.
One of my favourite parts of the grinder is the kief compartment, it would have to be the deepest I've seen by far. The curves make it a dream to collect and scoop up your kief. It seems to capture A LOT of trichomes. This can be used to supercharge a joint or cone.
If you're on your way to a friend's place to sesh or exploring nature, rest assured the Alien Tech grinder is lightweight, portable and comes with its very own carry case so you can discreetly and safely travel with it. The carry case is great for keeping sand and debris out of the grinder and to hold the tools.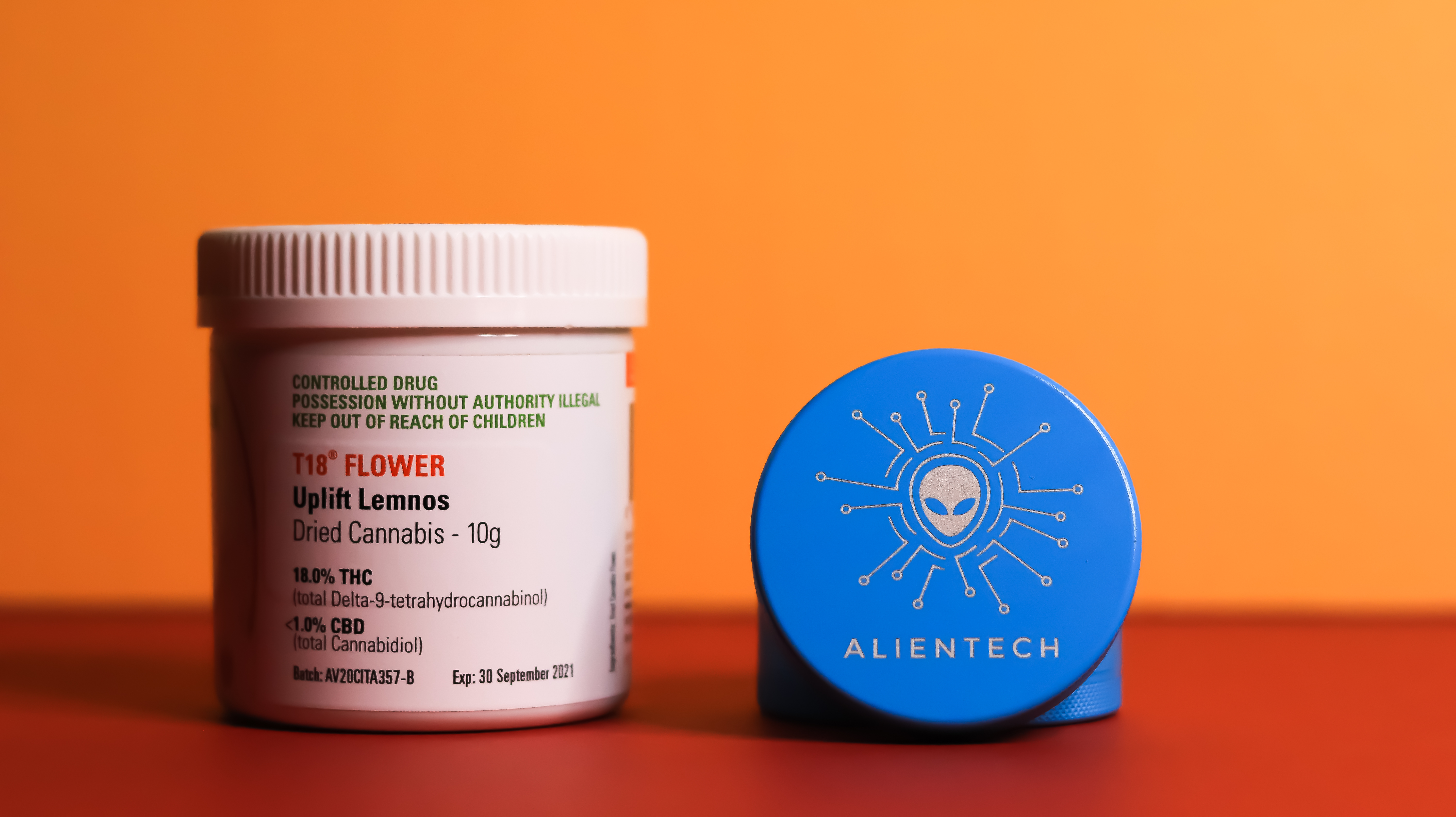 Performance
Everything about this grinder is easy and convenient, I was impressed with the ease of use, it's a lot wider than what I had prior to this one so you're able to spread you herbs out or even grind more. Alien Tech sent me this out 4-5 weeks ago, I've used it every day since and I am yet to struggle or experience it jam up, so far it's been a smooth process.
What Does Non-Stick Mean?
Alien Tech has built and designed this product to offer you a stress-free experience thanks to the nano-ceramic coating technology thermally bonded under vacuum to the spacecraft grade aluminium. This promotes easy maintenance and gives you a non-stick surface repelling the sticky resin which plagues the typical anodized grinders. With the included brush it is simple to keep the keif screen clear. With minimal maintenance your grinder will outperform anything on the market.
Are Plastic Cannabis Grinders Bad?
Not necessarily, although plastic is not renowned for durability or staying sharp. They do not repel the sticky resin and soon clog up, this needs to be mechanically scraped off which roughens the surface and allows more resin to stick. Alternatively, solvents are used which can attack the plastic and can make it brittle. If you have the option, I highly recommend a non-stick metal grinder over a disposable plastic one. You'll achieve a better grind overall, get the most out of your weed and the unit will have a much better longevity if it's metal.
How Do I Clean My Grinder?
Being a stoner can be very high maintenance, luckily this grinder is the most maintenance free on the market. Alien Tech include a cleaning brush with thick bristles to keep the screen flowing and to clean any keif accumulating in the corners or the chamber. Every now and then a q-tip with a solvent can be used to quickly wipe up any small spots but this is rarely necessary!
What's That Black Stuff That Builds Up Around My Grinder?
Believe it or not, the gunk or black stuff that builds up in and around some parts of the grinder is hash. It's basically trichomes getting trapped and the friction from turning the grinder pieces against each other compress the plant material into dark hash. Luckily Alien Techs non-stick coating is incredible for repelling this and you won't have a problem!
Price
These cost $69.95 AUD ( approx $54 USD ) and they're available in 7 Colors to match you.
What's Included In The Package?
1 x Alien Tech Grinder
1 x Cleaning Brush
1 x Small plastic Keif shovel/blade
1 x Travel Case
1 x Reusable Glass Filter Tip for Joints.
Where Can I Buy One From?
If you're looking for a new herb grinder built to last, this is the one. The grinder is their first product to be available on Earth with more products breaking through our atmosphere shortly! Check out the website at www.alientech420.com and follow their Instagram to keep up to date @alientech420