Cannabidiol or CBD, is one of over 100 cannabinoids found in the cannabis plant. Contrary to the well-known cannabinoid THC (tetrahydrocannabinol), CBD doesn't cause any intoxicating or "high" feeling. Hemp flower, the cousin to the high-THC cannabis plant, is rich in CBD and contains less than .3% THC.
TLDR: Shop Kushy Dreams – Here
In 2018 the Farm Bill legalized hemp in the United States. Since its legalization, hemp's popularity has grown. There are a variety of different ways to utilize the plant. It can be used to make clothing, added to food as a dietary supplement, and infused in topicals as a possible aid in pain relief.
You can also smoke hemp, just like weed. It won't get you 'high,' but it may be beneficial to users in reducing stress, anxiety, and pain.
Kushy Dreams offers consumers a few variations of hemp products. In the past few weeks, I've reviewed their create flower and the dream flower & prerolls. This review is on their luxury single gram preroll, Hustle.
Packaging
The one-gram pre-roll comes in a glass tube labeled with the Kushy Dream logo, its supposed effect (Hustle), and some product information. It's a 'push-down and turn' cap, and it opens easily.
The packaging is simple enough, but I wish it had more information about the flower. The website lists more information like sun-grown, categorized as a sativa, and contains 16.79% cannabinoids.
Look, taste and smell.
When I opened the container, I took a good whiff, and sweet notes of berries hit my nose. The Hustle joint is beautifully rolled, probably by machine, but I'm just assuming. I'm not sure what type of paper they used, but there is a crutch tip.
It smokes nice. It didn't run and burned slow. I wasn't a fan of the taste, though. It tasted a bit grassy.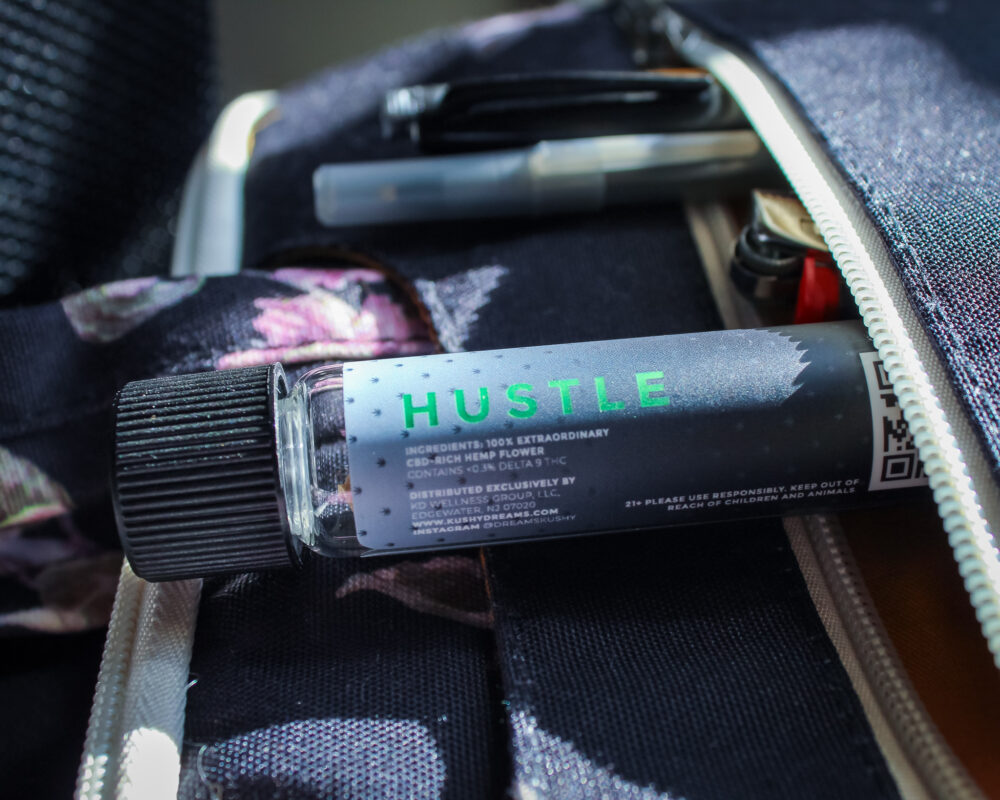 Effects
If you read my previous Kushy Dreams reviews, you know I haven't felt much of an effect off of any of Kushy Dreams products so far. These results aren't surprising considering that CBD doesn't give off any intoxicating high feelings, and I'm a high THC consumer. I smoked the previous products sober, so for this review, I took a different approach: I got high first and then tried the hemp joint.
CBD is often listed as a possible solution to give a person who has had too much THC. It counteracts the high intoxicating effects of eating edibles or smoking a joint.
I was a good amount of stoned before I sparked the Hustle pre-roll. I had a nice body high going and was thinking of switching my daily walk for some Netflix.
Halfway into smoking the pre-roll, I began to feel much more clear-headed. The fog lifted from my eyes, and the stoner high slowly started to melt away. This is the outcome I was hoping to feel. I was able to push through my mid-afternoon slump and head out on a pleasant stroll.
A negative effect I experienced was dry mouth.
Overall
I enjoyed the Hustle pre-roll. It was a great addition to my afternoon, relieving me from my urge to stay stoney on the couch. I genuinely enjoyed the smoke session as well. Suppose you're looking for quality hemp flower to smoke as a possible solution to anxiety, as an alternative to nicotine, or as a party addition to chill out. In that case, Kushy Dreams luxury prerolls are a great option.
Where Can I Purchase Kush Dreams Flower From?
Hustle retails for only 15 dollars and can be shipped anywhere in the US. You can view or shop their collection here or via the links below.