Genetics
A fascinating strain with an excellent combination of genetics that is hard to match; Gelato #45 x Gorilla Glue #4 x Girl Scout Cookies. The lineage of this strain ensures users to feel the typical associated Gorilla Glue effects except that they are heavily polished by the Gelato and Girl Scout Cookies by adding an enormous amount of personality in the mix. The genetics are very impressive and are considered to be a contemporary masterpiece due to the fact that all of the strains used in the breeding are famed worldwide and provide unique experiences.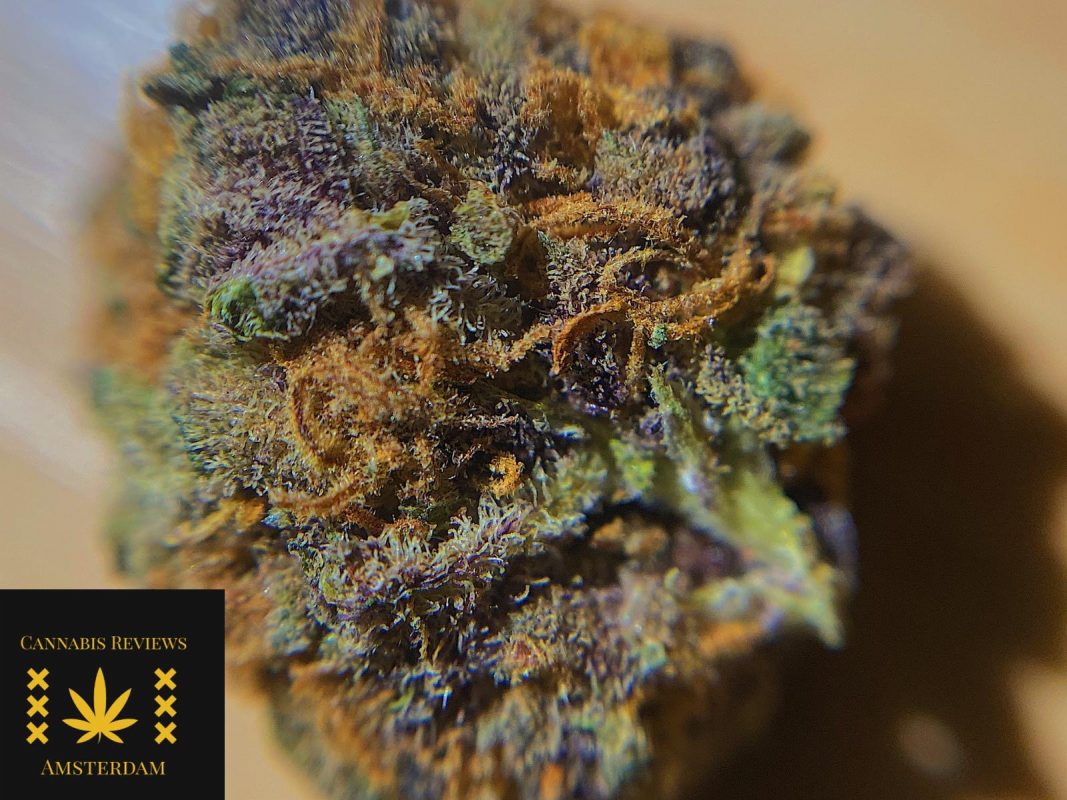 Appearance, Aroma, and Taste
Beautiful colours spring from the bud with lighter and darker shades of purple and golden pistols enveloping the bud. The bud structure is of high quality, one can tell due to the rather dense structure. The healthy pistils and trichomes not being cut short but instead springing up from the flower show a positive sign of little to no harmful PGR chemicals used in the growing. The pistils decorate the bud and look almost as fine as woollen threads, the different shades of green and purple around it make for an elegant colour splash.
Not only does this strain look unique but it's aroma is equally pleasant. It can be described as sweet, herbal, peppery and berry-like. It also puts an emphasize on the unique Gorilla Glue smell with some sourness. Gelato and Girl Scout Cookie genetics also play a big role in adding to the aroma and taste leaving a sweet and cookie like undertone.
The taste is quite full and is predominantly berry-like and herbal, as well as peppery notes in the background. It is also slightly sweet and is very comparable to the aroma. There is no harshness and the flavour intensifies as consumers begin feeling the effects, leading to delicious sweet and sour tastes.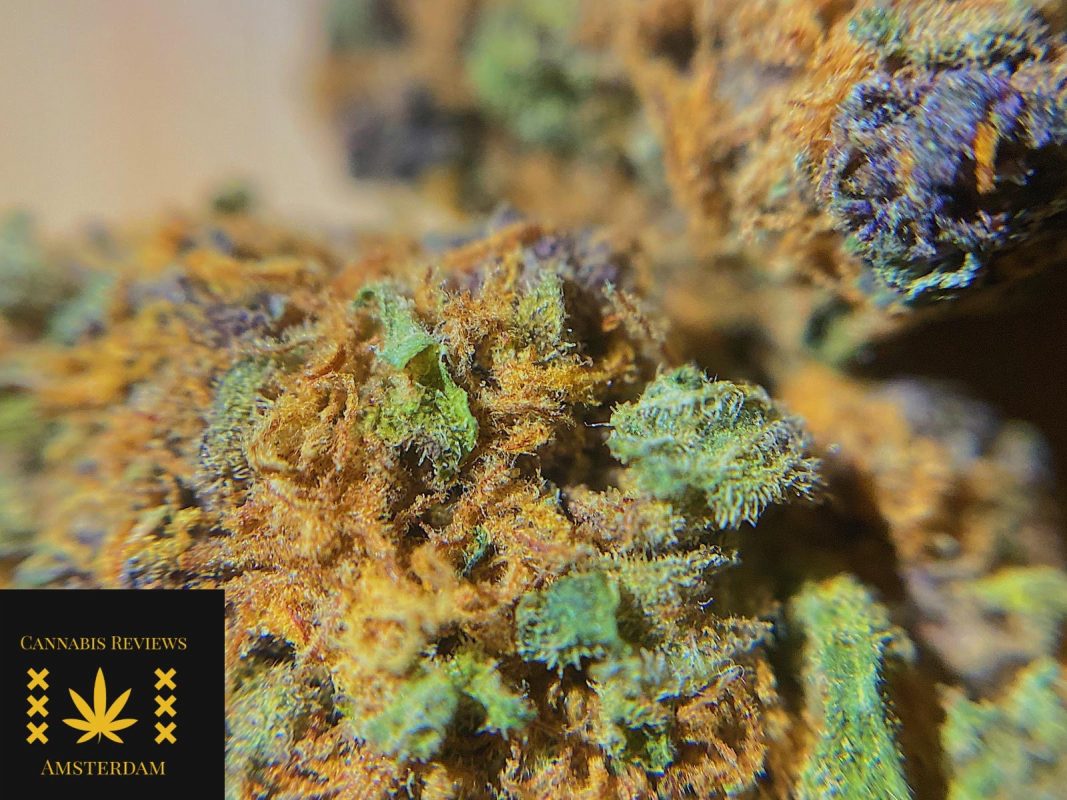 High
The effects this strain provides consumers is of high quality and almost balance, yet still indica orientated. It boosts users mood and even induces euphoria, meanwhile the body and mind are fully relaxed and full of creativity. THC levels can not exactly be measured but is high, some report it to be in the early twenties. An overall high quality high and a very well rounded indica hybrid with unique effects. This strain is best used during the evening and night time hours although it might stimulate some consumers too much and might prove difficult for sleeping, however this strain is guaranteed to show consumers a enjoyable ride.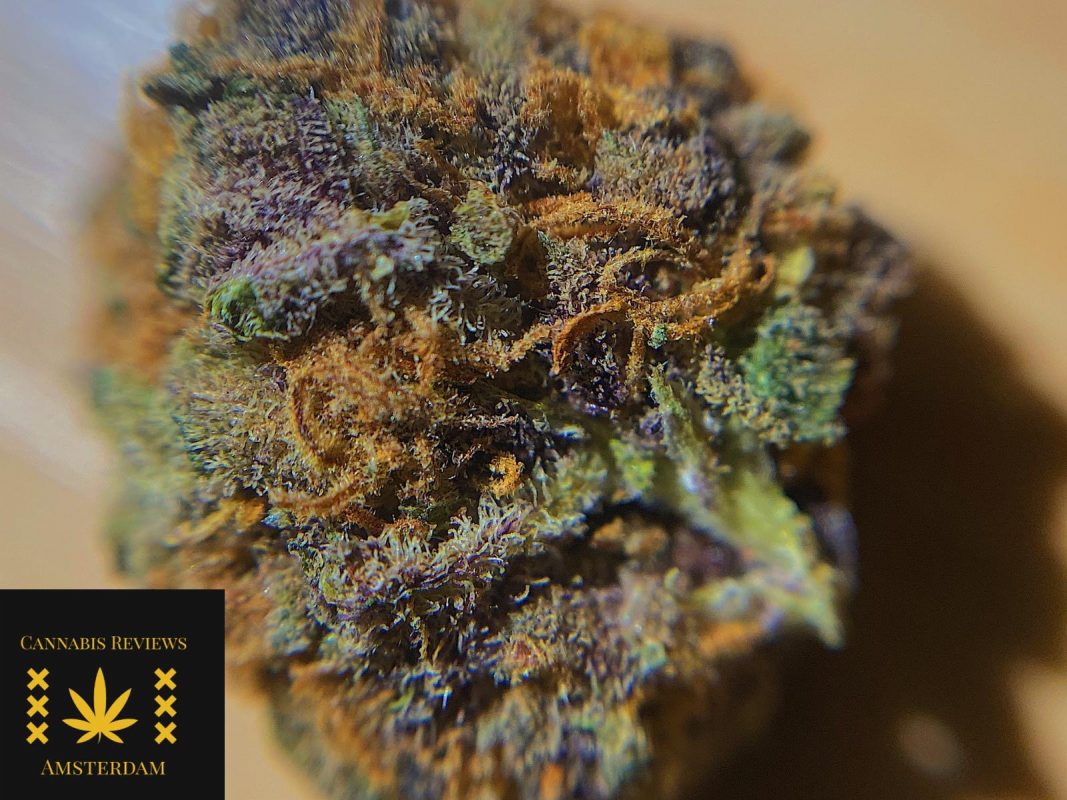 Terpenes
The terpenes that can be found in this particular strain are mainly Limonene, Myrcene as a close second, and decent amounts of Caryophyllene. Limonene delivers a citrus flavor and is believed to be responsible for eliminating anxiety and providing stress relief. Myrcene induces a herbal and slightly earthy aroma and is one of the most abundant terpenes generally found in cannabis. Caryophyllene adds peppery notes that are theorized to have anti-inflammatory potential.
The Amsterdam Coffee Shop
This sample of the 4G cannabis strain comes from Coffeeshop El Guapo which is located in the city centre not too far from the Dam Square.
Overall rating: 5/5
Appearance: 5/5
Aroma: 5/5
Taste: 5/5
Prominent Effect: Euphoric, relaxed, creative, uplifted
THC: High
Terpene Profile: Blueberry, herbal, peppery, sweet, sour
Source: Coffeeshop El Guapo [ @coffeeshopelguapo ]
To find out more information on this beautiful flower, checkout www.leafly.com – Leafly will have everything you need to know about the flower.
Connect With Cannabis Reviews Amsterdam
This review was written by Mat, a Cannabis Connoisseur bringing you strain reviews from the beautiful city of Amsterdam where he is also exploring.