With the influx of marijuana-related products on the market, it's a pain trying to find a genuine company with a reliable product. I just so happen to be Green Sherlock Holmes and have scoured the internet in search of only the absolute best products. I took pride in having a nice bong, a nice lighter, and my favorite weed socks when I realized there was one piece that I was neglecting all these years, my grinder!
If you're like me then you've probably had the same gas station grinder for numerous years that's dirty as all get out and older than a nice bottle of wine. It worked alright but I couldn't be ruining my stanky Sour Diesel with some $5 piece of metal. So I went searching for a replacement but not just any regular grinder. I've always wanted a nice looking piece that was also effective and durable. And by chance that's when we met Gemineye Grinders and teamed up to get our opinion on their products.
First Impressions
Gemineye Grinders said it best "That the perfect grind initiates the perfect herbal experience" and I couldn't agree more. To begin with, the grinders are made from ceramic with accents of aluminum that work in perfect unison to create an effortless grind. Ceramic, in this case, is incredibly more effective at grinder than a product made from plastic or metal given its nonstick properties. I didn't fully believe it when I first read that this material was nonstick but in practice, it actually works! I waste so much less flower now that I don't need to go into my grinder with a toothpick to get half of my ground from the protruding tongs. You very much see the difference in the stickier bud. My old grinder would seize or get stuck but I can fill my Gemineye to the very max and as few as 5-6 turns it's nicely ground. From start to finish this grinder does its job and then some.
Ergonomics
The colorways of these grinders are next level as well. They are stunning pieces. Don't expect to see generic colors when shopping for one of these bad boys. From the list of many options, I chose to pick my favorite color, blue, and boy was I impressed when I received the product in the mail. The bright baby blue color jumps out at you immediately. The pastel colors are extremely original and just pleasant on the eye. I know with this sitting on my table it is one of the nicest pieces in my collection. Not to mention the wicked gemineye design on the top of the grinder. The all-seeing eye is sort of masonic and mysterious. It adds a bit of edge to a glamourous product.
The grinder is huge. You will have no problems at all going through a zip in one sitting. The basin itself can hold close to 5 grams and the kief trap is equally large. This product isn't for the once in a while smokers. This big daddy is for all of us regulars out there, for all of us that know how to destroy some nice fresh flower. Even with the large size, the grinder can still be placed away discreetly and hidden from the closed-minded people of the world.
This product might be out of a couple of people's price range but believe me when I say every dollar was worth it. When figuring up how much money I've sent on previous grinders that keep breaking or all the flowery green I lose in said grinders, I actually save more money than I spent. It's 2020 people! Start taking some pride in your pieces. Gas station products aren't cutting it anymore.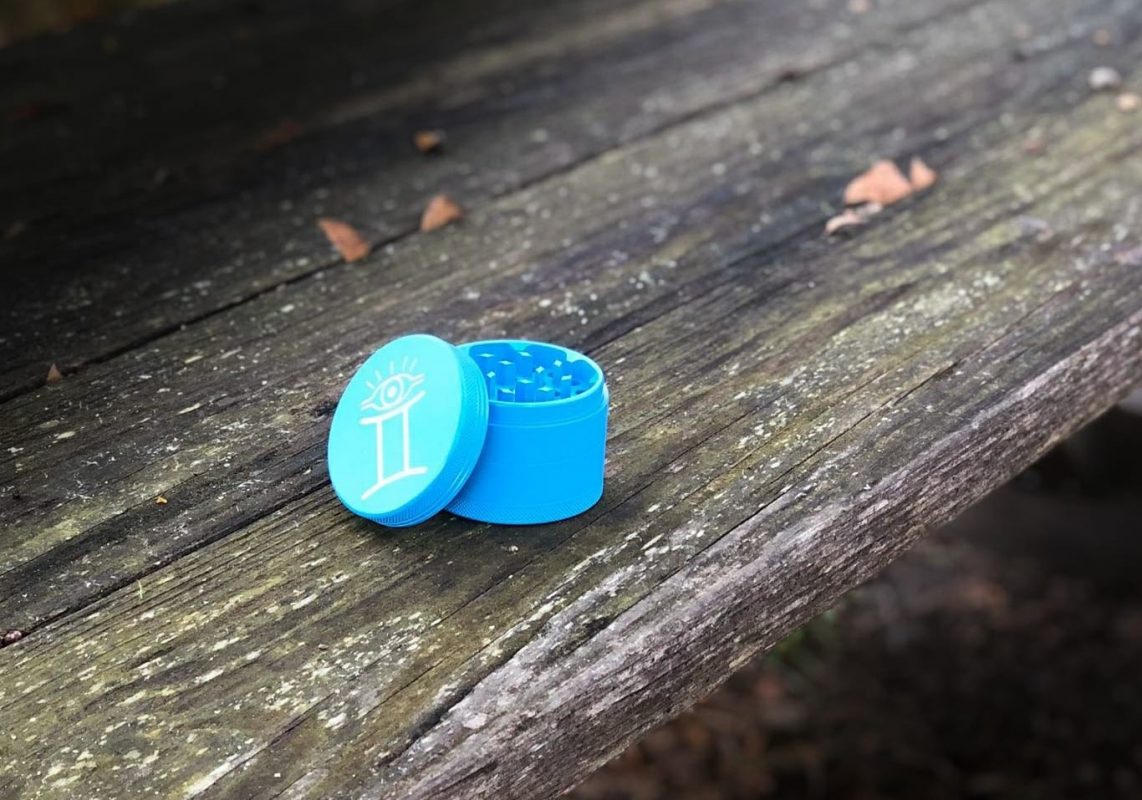 Why Gemineye Grinders?
The durability and cleanliness of these grinders are unmatched. The quality and beauty of these grinders is pristine and powerful. This is a top tier product that I am proud to say I am an owner of. Not only does it save me money but it looks good while doing it. I'd highly recommend Gemineye Grinders to anyone in search of a new piece or those who have a little extra money and are looking to upgrade. The price might be a little high for some of you but when I think about how much I've spent on the 10+ grinders I've had in just a few years and how much weed has been wasted in that time, I realize that absolutely every dollar is worth it. For me its a 9.3 / 10.
Where Do I Buy My Gemineye Grinder From?
Simply visit the official website to purchase your Gemineye Grinder, in the color of your choice, they 6 colors to choose from! Clearly ours is the Blue.
Keep a look out for their Spliff Sleeves!