I'd like to introduce the MyPharmJar Miron Glass Jar, the ultimate UV protecting, aroma enhancing jar perfect for storing, curing & protecting your precious herbs from harmful UVs. The MyPharmJar is not only for us green thumbs, it's great to keep your coffee, superfoods, dried food, protein powders and more preserved.
MyPharmJar are located in Portland, Oregon and they've been making these jars since 2014. The Miron violet glass originates as far as the Ancient Egyptians. Made in Switzerland. You can view the whole range here, www.mypharmjar.com
---
I just want say a big thank you to Scott, founder of MyPharmJar, who reached out prior to releasing Version 2.0 and introduced me to the MyPharmJar collection. I received the following:
This is the first I have heard of Miron and the benefits it can bring to your herbs. I'm currently curing some Strawberry Banana, I didn't grow this although it's cured so nicely since I've put it into the 100ml jar I received which is by far my favorite as it's perfect for travel or if you don't have much space in your room.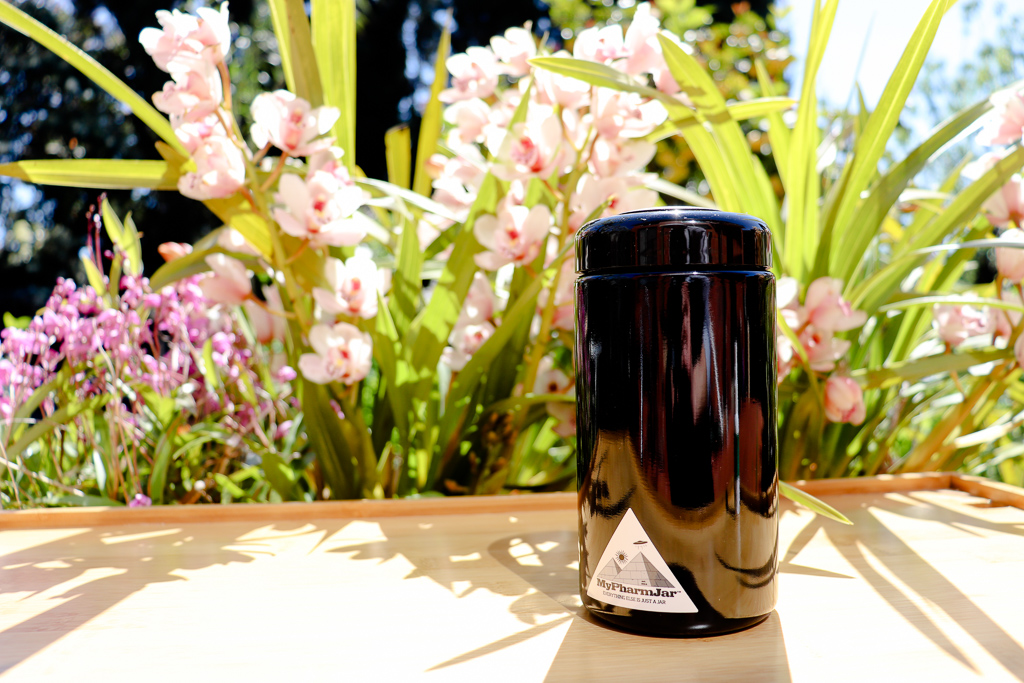 As you can see the jar is dark and barely let's in light if any at all, when held up to the sun the jars walls shine purple [do not look into sun] and the the jar itself is what I find, lower than room temperature – unfortunately the smaller one I received does not have a sensor lid, that would be cool if it did – maybe 3.0 MyPharmJar? I'll talk more future concepts after the review!
In the 1 Liter Jar, I have some Purple Haze which is not from anywhere particular, just the local dude. I've had this in the jar curing for the past week and I have certainly have seen and noticed a difference, especially in the visual aesthetics and the flavor from my herbs.
Add a Boveda 2-Way Humidity Pack into your jar and you're on the road to preserving herbs, if you're in Australia or other warmer parts of the world the sun can damage our herbs and papers, I look forward to this year being the first year where that all isn't ruined by our beautiful sun.
Growers..
For the ones who are currently harvesting and curing their buds for Croptober! look no further, MyPharmJar offer the 1L Jar with a sensor lid or in a pack of 8x here to accommodate for the heavy weights.
Future Ideas.
It would be awesome to see the MyPharmJar collection feature jars with LED lights, could be a soft purple, once you open the lid the tiny LEDs activate allowing you to see your herbs or simply a button.
Thank you for taking the time to read our articles. If you have any questions or feedback please leave a comment below and I will do my best to reply!
---
CONNECT WITH MYPHARMJAR
---
If you could share this blog / review it would mean the world to me <3