About The Brand
The company are based in New York, USA and made up of a team of inventors who specialize in designing and creating these beautiful universal gravity water-bongs, I'm almost certain you've never seen anything like it. They first launched back in early 2019 since then the brand has come a long way introducing other another stunning pieces and variants like The Infinity Waterfall. You may have seen their family of products as they were featured on platforms such as NowThis, HERB & Lad Bible.
First Impressions
The moment I opened the box I knew this item was a premium product created with huge amount of attention, detail, care and of course love. There is no question about it, it's unique and this majestic piece will be a hit at any session you bring it along to. It's shaped like a genie lamp – hence the name – it has dual chambers, one to hold the water and the other to hold the smoke, you'll find the slide and stem are one piece all nicely packed in the box for you ready to go. Don't worry you'll get instructions with photos as well 😉
Function & Design
I'm a joint smoker, always have been and always will be! Like many of us I have owned a number of bongs but never have I owned or even seen anything like The Jinni Pipe.
I'm not going to lie I was a little nervous but excited to finally be able to experience it and even show some of my friends online, I've had the pleasure of practicing and using the Jinni Pipe over the last few weeks and let me tell you, it's been fun! it's not too heavy but it's definitely not too light so if you are scared of dropping it, don't be!
It's actually very comfortable to hold. I think The Jinni Pipe is one that you can easily travel with besides the clear fact it is an ideal size it's also easy to clean which is a bonus with any new glassware and help maintain like how you first set eyes on this piece.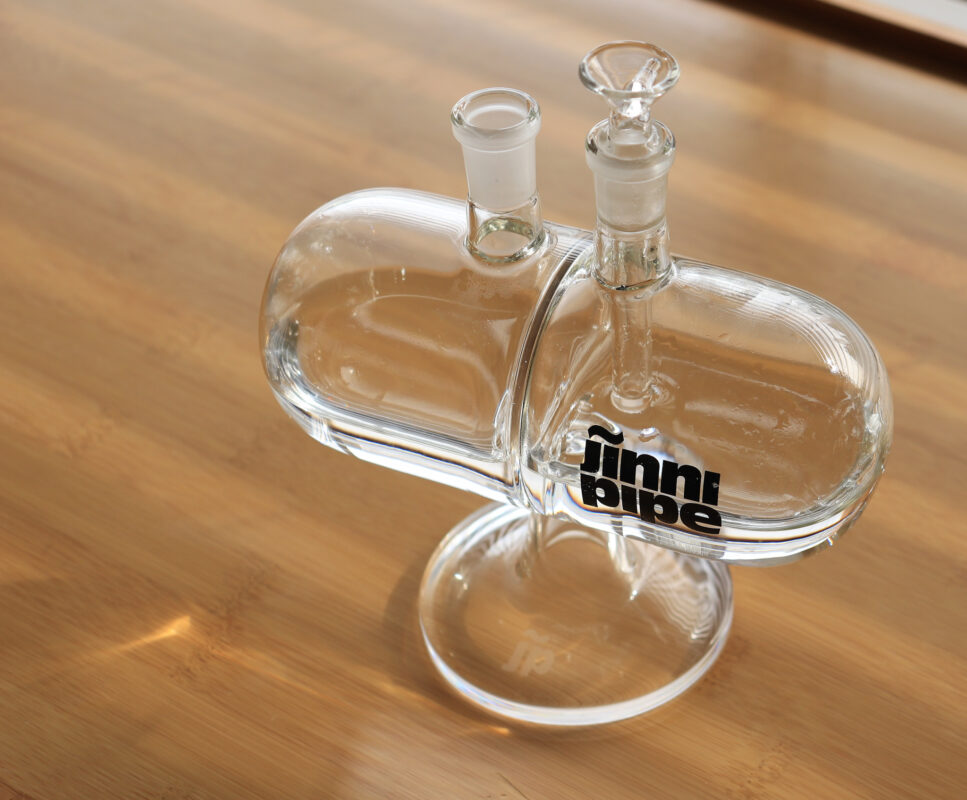 Now..to the fun part. After I spent a few minutes taking in all of its beauty, holding it like I'm at a dinner party. Slide the stem in, fill the water till it just passes the end of the stem and you're good to go.
Get your flower and fill the bowl. Now for the "scary" bit, light your herb and start to tilt the Jinni Pipe away from you and you'll see the beautiful milky clouds being created, once the chamber is filled with goodness you can take the slide out, still keep it tilted and take the slide out and tilt towards you and enjoy the smooth lipless hit from the bong! If you have baby lungs don't add too much material in the bowl.
What Is A Gravity Bong?
The gravity bong is one of the many ways one can consume Cannabis. Traditionally the method that is used is with two empty plastic bottles to carry the smoke through water and push it into your lungs. Gravity bongs work by submerging a small bottle with a bowl of cannabis on top in a larger bottle or bucket of water. While lighting the cannabis, slowly draw the bottle out of the water to fill with smoke from the burning cannabis. Unscrew the lid, put your mouth over the bottle's opening, and push the bottle down to let gravity propel the cannabis smoke into your lungs.
Shut Up & Take My Money
If you are wanting to add one of these beautiful pieces to your glass collection or lounge room as decor, you can place an order for The Jinni Pipe through the company directly, please see the link below
What Is The Infinity Waterfall?
This is one of their latest inventions to be added to the collection of gravity glass bongs, now remastered with an approved patent. These were first launched back The Infinity Waterfall is truly an elegant piece of glassware shaped like hour glass, it's also universal which means you can use it as a rig, bong and of course a gravity bong. I'm yet to use one myself however I thought it deserved a mention and so I've linked a video below so you can witness the magical waterfall for yourselves.
---
Connect With The Team From Jinni & Infinity
If you'd like to keep up to date with this innovative team and their products feel free to follow them on any of the below channels.
---