If you bring your herb everywhere with you, keep reading. Whether it's in the form of a vape or a couple of joints – 99.9% of the time I leave the house I have my dry herb vape or a few joints stashed away for a fun and anxiety-free day.
I've used a handful of other smell-proof storage solutions in the past although neither of them isn't constructed like this. The Alien Tech smell-proof storage bag gives you all that and with the multiple storage compartments it gives you more options with what you're able to bring along with you, there's even a spot for your rolling tray so you're able to roll up anywhere. It allows me to conveniently store my papers, grinder, and herbs all in an easy-to-carry protective case.
The exterior fabric is constructed with heavy-duty nylon and waterproofing material to safeguard your herbs and accessories from the weather or any accidents. It's fitted with an activated carbon filter system that provides odor-absorbing technology to ensure ultimate discretion during your travels. When Alien Tech launches a product they spare no expenses during the product design phase to provide you with the best experience possible within their collection.
Thanks to the child safety lock your precious herbs, vape cartridges, or whatever accessories you decide to store will be safe from unwanted visitors, roommates, and children. In fact, some US states require medical patients and recreational users to keep their herbs locked away from children by law.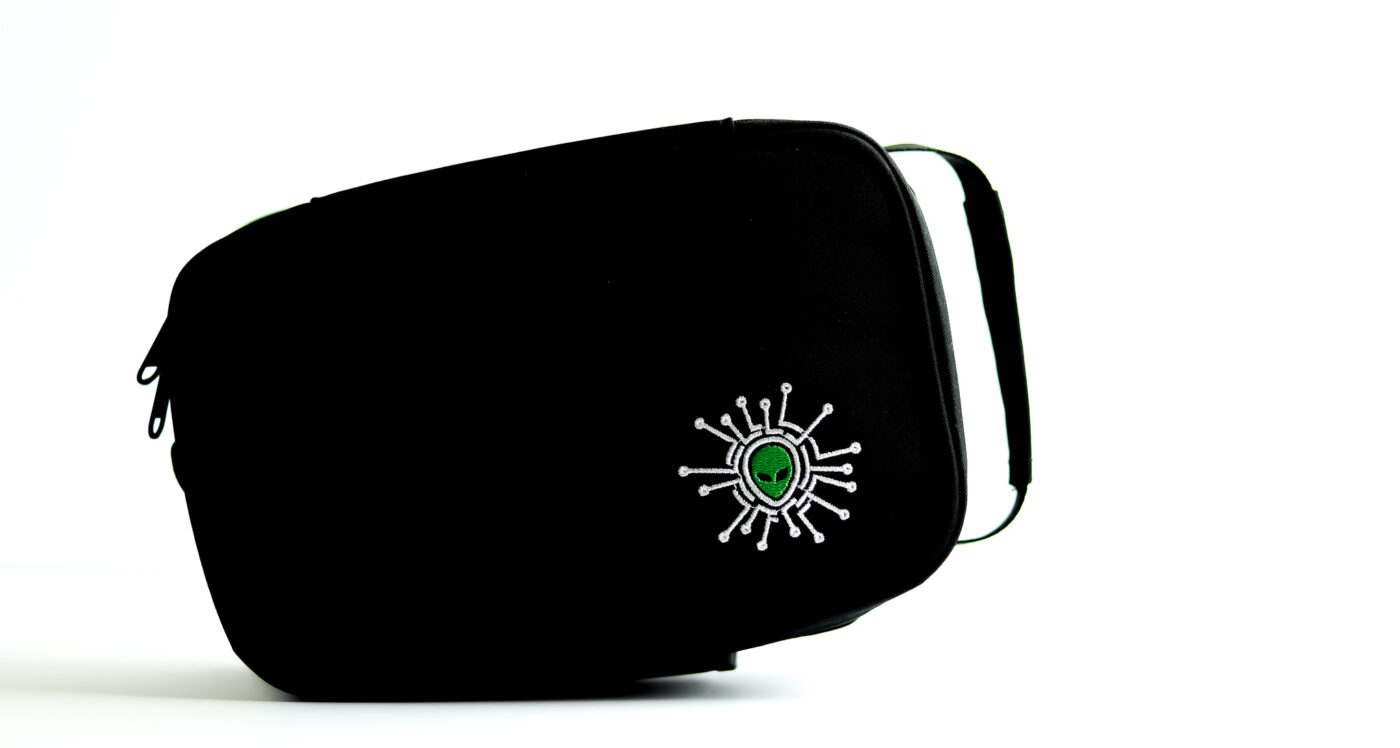 Product Highlights
Perfect for carrying vapes, jars and papers
Designed to house the Alien Tech range
Child safety lock
Odor-absorbing

Waterproof

4 adjustable compartments
Traveling With Medical Cannabis In Australia
Medical cannabis in Australia has come a very long way in recent years since its legalization in 2016, there are now more than 300 products and 100,000+ patients Australia-wide. If you are a patient, you might be wondering – Can I travel with my medical cannabis in Australia? Yes, you can! This only applies to patients who hold a valid prescription from their licensed GP / Doctor.
Long as your medication is legally prescribed by a licensed GP, just like any other prescribed medication, you have the right to freely travel with cannabis. This includes all forms of cannabis whether it be dried flower or oils, it's legal. All legally prescribed cannabis (Oil and flower) packages will display the pharmacy label, doctors' instructions, and of course your prescription.
To minimize complications while traveling, we would advise you to do the following:
Request a written letter from your clinic nurse or Doctor outlining the prescribed medication.
Keep your medicine in its original packing with your pharmacy label and prescription is visible.
Take it with you in your carry-on bag.
Ask your Doctor or Clinic nurse for a TGA approval letter.
To avoid even further complications and anxiety while traveling interstate, I highly recommend you consider an odor-absorbing bag like the one in this review from Alien Tech. It's big enough for all your essentials and convenient enough to store in your carry-on or a duffle bag, as mentioned above these bags will ensure you travel with peace of mind and allow you to go about your business.
To find out more about what Alien Tech is all about, head on over to www.alientech420.com and for the odor-absorbing bag – shop here.